Today, as part of the Sept. 7th holiday, I had planned to clean out the shelves in the living room in order to change their places.
Before starting I checked in my webworld as usual, and can't remember how now, came across
The Adventures of Elizabeth
, Elizabeth Maxson's blog.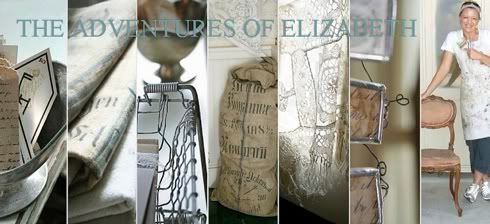 I read a few posts, but then
just had
to go to the beginning and read them all! There went the shelves&moving!
I enjoy "decorating", art, and craft blogs, especially those with before-and-after pictures (lovely photos, she is also a great photographer). She has those plus loads of good ideas and great tips. As in all the blogs I especially enjoy, what kept me interested was her story: she welcomes us into her real world, and not just the glamour of a talented designer/craftswoman/boutique-owner's experience. Her humanity touched me; her rising above her difficulties, and sharing the gifts of insight she gained from them.
I actually was moved enough to
actually write a comment
, something I don't usually do, as sad to say, this still a place where my old shyness comes over me.
Or maybe it's just that she also loves the movie
Fargo
, which coincidendently I just saw again,
again
, last night.
Well, now back to my world.
*
sigh
* Is there still time to work on the shelves?
Since it is a holiday, I guess not.
I'll just have to console myself by watching my
novelinha
and having some pizza for dinner. After all, Hubby is in Germany, working but, I'm sure, sacrificing himself to some
alt Bier,
poor thing. Sons² and ³ are on holiday trip or with girfriend.
Poor,
poor
me. I guess I'll just have to have a glass of wine with that pizza.
*I just did a Google check to see if I wrote beer correctly in German (I did) and came across
How to say "beer" in several languages
, good for a quick laugh and some yeast&hops culture. I'm so glad to know that beer in:
•
Corellian
: Lum
(in case you find yourself in the Star Wars universe)
and that
•
English (old):
Beor
(in case you drunkenly invent a time machine)