Today is
Reis Magos
/Epiphany, the day to take down the Christmas decorations.
Amazingly, I actually managed to!
The last few days I've been enjoying the lighted tree, the Christmas votive candles... the smell of the evergreen in my living room. As I was so late in setting up, the joy of seeing these was even greater. I was even a little sad, but a happy sad... another Christmas come and gone. Enjoyed, now that the rush&tiredness are over and just memory.
I'm awaiting some more photos that Son¹ took and has to send me. I'll post them here when they do come in...
The New Year we spent with some friends at their farm in the southeast part of the state, about three hours' drive away. We had a lovely time: very food oriented! What to cook, who(s) to cook it, the cooking, then the eating!
All repeated the next day!
This interspersed with good conversation and napping. I actually had to asked forgiveness from my hostess... I was taking very long naps; I think I may even have gotten some of my sleep debt paid!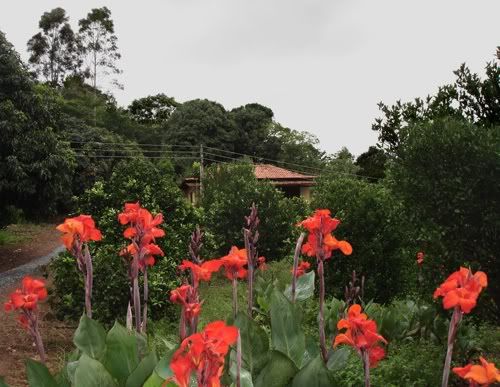 The new little house, a guest cottage with two suites,
that we inaugurated. It is set up the hill in the orchard.
The materials were reused from another little house
that had been on the property.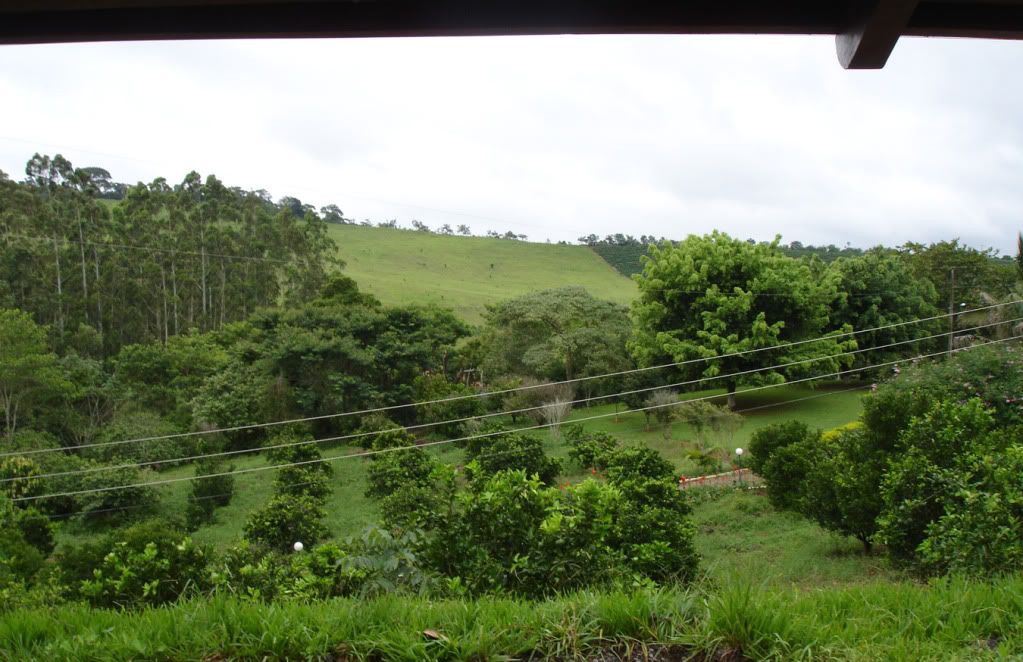 Click to enlarge
The view from the veranda of the guest cottage,
looking towards the valley.
The red flowers' sisters that edge the drive can be seen.

The evening of January 1st we had...
Pizza!
A pizza fest in their home-pizzaria!
What a great way to start the new year!
Sorry, what between sleepiness and pizza-hunger,
I didn't take pictures of the baked pizzas.
Hubby made a
coulis
of jaboticabas brought from Son² girlfriend's fazenda. This at the end of their season in November, but it has kept well in the fridge. Jaboticabas are a native fruit to our state, and the
coulis
has beautiful deep, dark reddish-violet color and a tart taste. It is especially beautiful over vanilla ice cream. Yumm!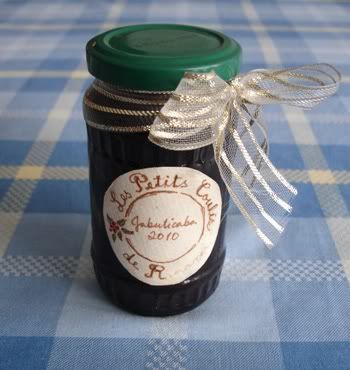 I washed and boiled some small jars and put some of the
coulis
in one.
Then I made a quick label. The writing, made with a thin-tipped marker and color pencils, blurred as I had glued the label onto the jar with the very cold
coulis
already in it—the condensation attacked!
The effect came out not too bad... I can pretend it's a certain vintageness from ageing in a cellar.
I managed to find a ribbon in my
mess
atelier, and so, a gift for our hosts, who much admire Hubby's cooking talents.